It's time to paint some apples, don't you agree? Nana has several you can enjoy. We are pointing to Apple Chalk Pastel Art Lessons so you can add them to your studies and read aloud times!
Art is an exceptional activity for strengthening parent-child relationships. With the crispness of the fall air and the rustle of fallen leaves, it is a great time to explore fall art with your kids. Using chalk pastels you can create both beautiful artwork and lasting memories while nurturing your connection. Here are some fun ideas for fall art and one on one time with kids. And here are some fun ideas for creating unit studies with art: Make Homeschool Lessons More Fun When You Add Art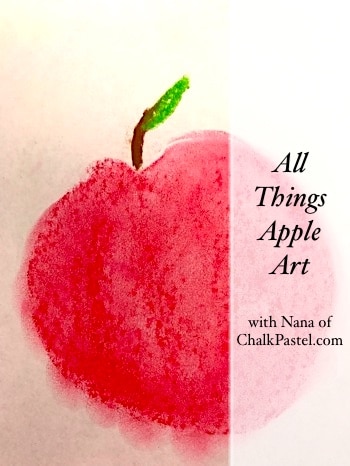 You ARE an Artist Clubhouse members will find these lessons in your membership dashboard:
Apple – A Simple Start in Chalk Pastels

Apple – Preschool Fall Video Art Lessons

Caramel Apple – Fall Video Art Lessons

Johnny Appleseed Clubhouse Exclusive lesson – Fall Video Art Lessons

An Appleseed Adventure event – Mapping Johnny Appleseed's travels with Nana plus nature with Ms. Cindy and music with Ms. Mary!


Also: How to Make an Apple Pie and See the World (for tea time!) – YouTube
Perfect to go with How to Make Nana's Apple Pie and See the World (her recipe)
You might also like: