Welcome to chalk pastel art lessons with Nana! Nana will share live chalk pastel art lessons here on occasion so that you can have a taste of what you will enjoy in the You ARE an Artist Clubhouse!
You ARE invited – Summer Art Camp Treehouse Lesson!
When: Wednesday, May 20th at noon EDT.
Where: Right here on this page.
*If you have painted this lesson with us before, please join us again in celebrating the kick off of Summer Art Camp. NEW Adventure Map kick off lesson for our members next week.
*Please scroll down for even more on Summer Art Camp!
FAQ Art Questions
Suggested supplies: pastel colored construction paper and all the chalk pastels colors. Baby wipes or damp paper towels make clean up easy!
Don't have these supplies? Please use what you have on hand and enjoy.
What are our favorite chalk pastel sets? Here are our favorites for ordering online. A starter set is less than $10 and can be shared around the table.
What ages is this art lesson for? This Summer Treehouse lesson is for all ages – join us! Nana also has a series of I Drew It Then I Knew It video art lessons which are aimed at elementary age and up.
Will a replay be available? Yes, you can enjoy the replay on this page for a certain time after the event.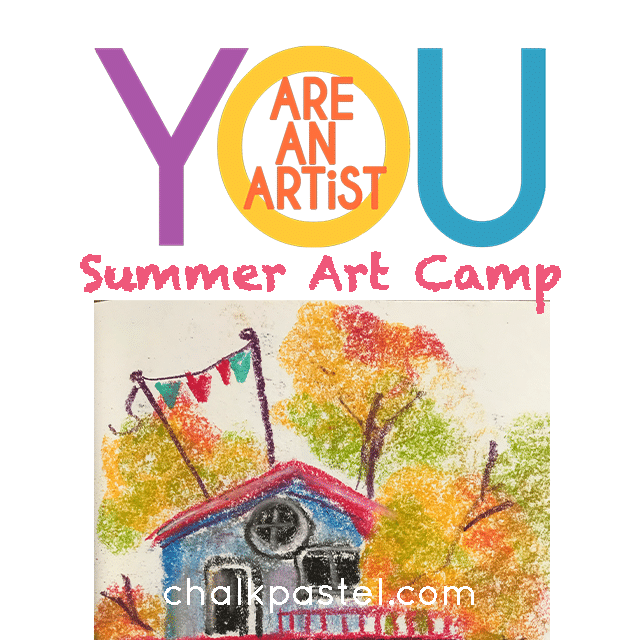 Exclusive Summer Art Camp Lessons
Virtual Summer Art Camp! Just add snacks from your mess hall and a recreation break. As always – it's art for all ages. With so many summer camps cancelled, this is a fun, online option. Our members receive exclusive lessons in You ARE an Artist Clubhouse membership with access to exclusive camp lessons and a huge library of lessons for a discounted price! Nana brings the art fun for an online art camp with Summer Camp Video Art Lessons! All it takes is a starter set of chalk pastels, construction paper and Nana's video art lessons for a virtual summer art camp!
Summer Camp Video Art Lessons is a wonderful stand alone art curriculum and a perfect complement to your summer fun. Available with membership or as a course.
For Summer Art Camp, You ARE an Artist Clubhouse members will enjoy:

NEW! Daily clickable calendar with art prompts
NEW! Next week Nana will share an Adventure Map which will give an overview of the month and may include a pirate ship and more!
NEW! Art Lesson for parents. This lesson can be enjoyed by all ages but Nana has something very special just for YOU!
NEW! Elective tracks for summer art camp! In addition to the daily art prompts which allow you to click directly to the lesson of the day, your campers can choose elective tracks. Choose from star gazing and out of this world, master classes and acrylics, favorite books and movies, preschool, Bible stories, under the sea and more. Plus Complete Clubhouse members can be an Artist for a Day, enjoy musical adventures with hymn writers and composers, choose cartography and travel around the world or become Very Presidential.
We love Erin's ideas for adding root beer floats and s'mores and more for even more Online Summer Art Camp fun!
FEATURING YOU! YOU ARE AN ARTIST!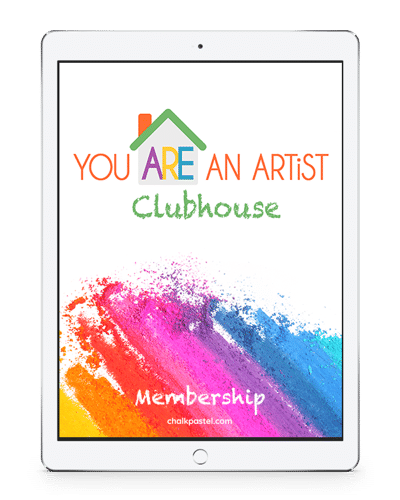 During and after your art lesson, please be sure to share with us! Simply tag @chalkpastelart on Instagram, use the #YouAREanArtist hashtag, or upload a photo to the ChalkPastel.com Facebook page!
You might also like more art lessons! We invite you to join the You ARE an Artist Clubhouse for a HUGE bank of art lessons.
Join our You ARE an Artist community on Instagram and the You ARE an Artist Facebook group!