A Simple Start in Chalk Pastels Video Art Course (full year)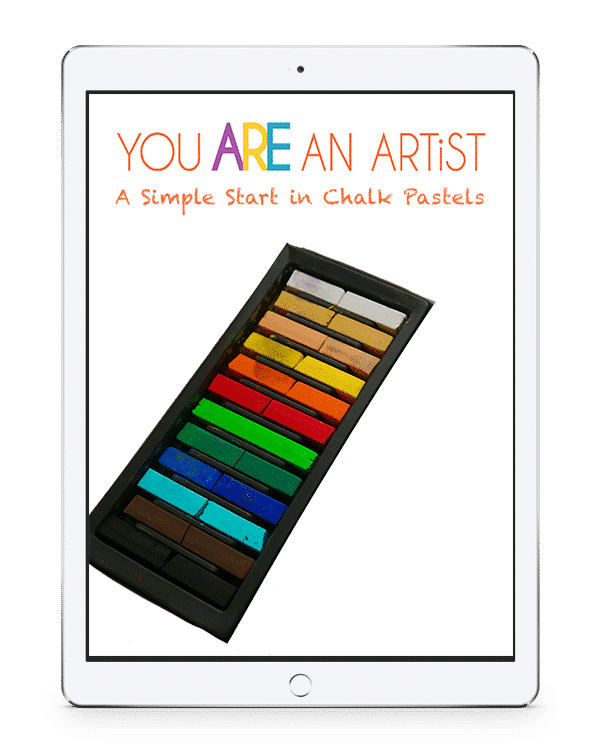 What is included in the course?
Step-by-step instructions
A Simple Start in Chalk Pastels ebook
Techniques encourage both new artists and challenge more advanced ones
Independent learning for older students
You ARE an Artist Facebook group – share photos of art work, ask questions and encourage each other!
Begin with any art lesson that appeals to you. Each of these tutorials is designed for students of all ages. If this is your first time using the chalk pastel medium, we suggest you begin with Apple or Pumpkin and then move to A Path to the Beach.
General Suggestions for Chalk Pastel Art
In addition to a starter set of chalk pastels, there are very few supplies we suggest you have on hand. Regular copy or printer paper works very well. Construction paper is also wonderful for the layering and blending of colors. It is our favorite. Dampened paper towels or baby wipes make for easy clean up and help in cleaning off hands between colors.
The very first time Nana taught her grandchildren a pastel lesson was in February 2010. That day, we created one of our favorite subjects: the beach! Funny thing was, she was snowed in at our house. Inches of snow were piled up outside. But inside, we created puffy clouds, an ocean view and a path to that beach…
Emphasis on blending techniques in this lesson plus perspective with the horizon and cloud creation. Other techniques include: underpainting, skumbling, layering colors, blending and smoothing plus tapping grasses.