Modern History Video Art Lessons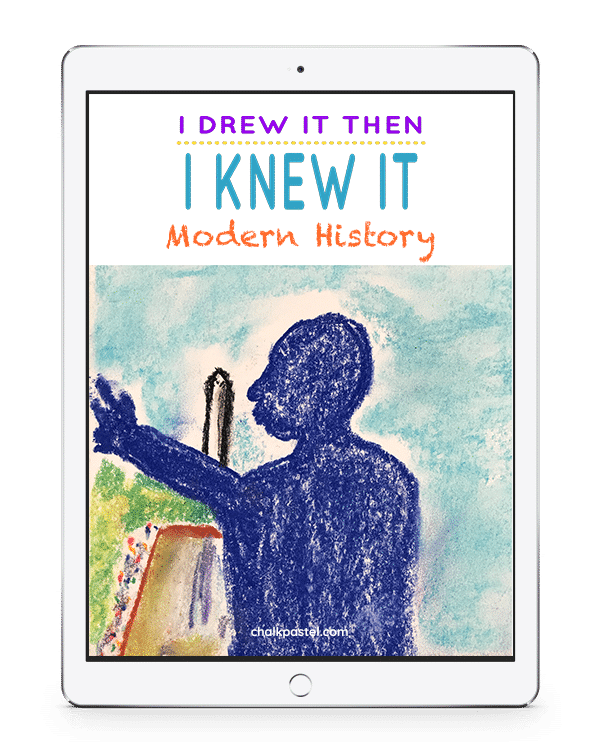 What is included in this course?
A variety of modern history themed video art lessons
Step-by-step instructions
Techniques encourage both new artists and challenge more advanced ones
Independent learning for older students
You ARE an Artist Facebook group – share photos of art work, ask questions and encourage each other!
Begin with any art lesson that appeals to you. Each of these tutorials is designed for students of all ages.
General Suggestions for Modern History Chalk Art
In addition to a starter set of chalk pastels, there are very few supplies we suggest you have on hand. For paper – regular copy or printer paper works very well. Construction paper is also wonderful for the layering and blending of colors. It is our favorite. Dampened paper towels or baby wipes make for easy clean up and help in cleaning off hands between colors.
Feel free to stop, rewind and enjoy each video art tutorial at your own pace. Enjoy each one over and over as you practice with chalk pastels and learn more about this era of history.
Featuring you! You ARE an Artist
So, paint your Modern History paintings and be sure to share with us! Simply tag @chalkpastelart on social media, use the #YouAREanArtist hashtag, or share a photo in the You ARE an Artist group on Facebook.
So many modern medical advancements! Let's chat about them while we paint! Suggested supplies: white construction paper. Black, blue, red, green, yellow chalk pastels.