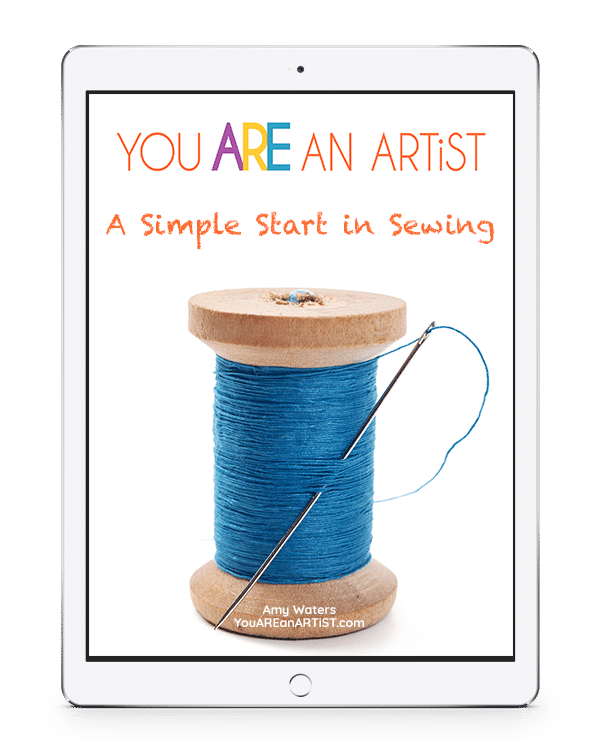 Get Started
This course is currently closed
Teacher Amy Waters (Ms. Amy) walks you and your artists through A Simple Start in Sewing Video Lessons.
Why would you want A Simple Start in Sewing Video Lessons? You might:
have a love or curiosity for sewing
want to save money
reuse or recycle something
desire to be a good steward of the resources God has provided
learn a Biblical perspective on sewing
ALL you need to get started! No long, intimidating list. Just…
Thread and needle
Various materials – each video will list the very few supplies you will need for the project. Often you will use something you have on hand.
What is included in the course?
Step-by-step instructions
Techniques encourage new students
Independent learning for older students
Option to join You ARE an Artist Facebook group for sharing your creations and asking questions.
How to view A Simple Start in Sewing?
Each lesson includes an overhead view of Ms. Amy leading you through, step-by-step.
View each lesson on any digital device.
Once purchased, you have lifetime access to the course.
A Simple Start in Sewing Video Lessons

Intro – How to Make a Sewing Kit
How to Sew or Repair a Hem
How to Sew or Repair a Seam
How to Make a t-shirt Bag
How to Sew on a Button
How to Make or Repair a Button Hole
How to Weave (Make Pot Holders)
How to Make a Pillow and How to Make a Stuffed Animal
Six Simple Embroidery Stitches