You ARE an Artist Clubhouse Membership
A personal invitation from Nana!
It's easy to be an artist with You ARE an Artist Art Lessons for the Whole Family!
Imagine…
All access to art lessons for the entire family for one low price
Mixing and matching art lessons to match your schedule and your studies
A special membership community
Early access to new art lessons
Member-exclusive bonuses
Join the Clubhouse now!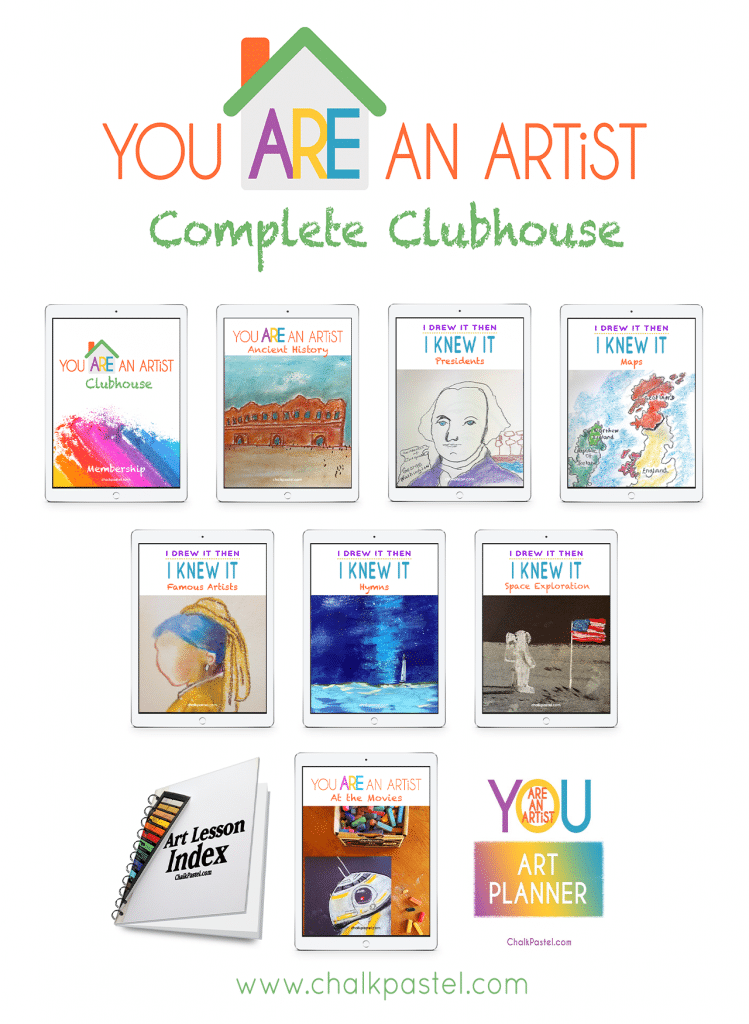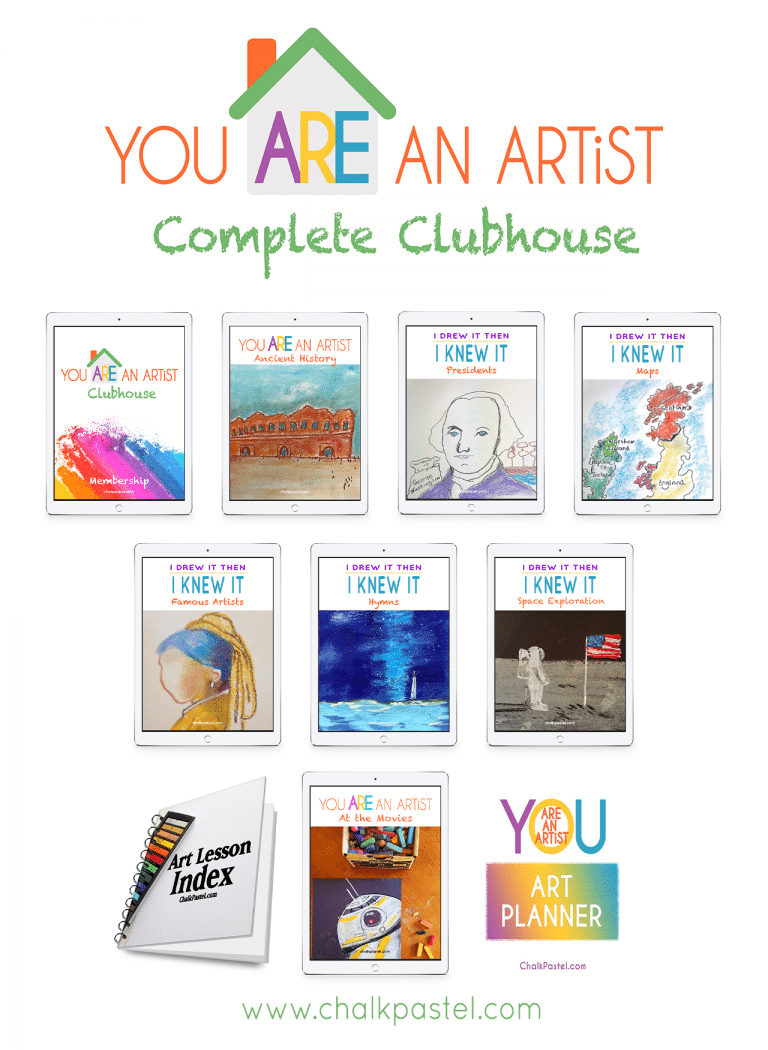 Nana's video art lessons enhance the learning already happening in your home! Here is how you can reinforce history, science and so much of what you are already studying.
MAPS
If you can visualize a 4th-grade Nana from years ago, come sit next to her and see how much fun maps and geography are! I can show you how to outline the contours of continents and islands and you will say, "I Drew It, Then I Knew It!" It really is fun and you will be surprised at how much you learn!
PRESIDENTS
There have been 45 men to hold the office of United States President. There are those that are not familiar to us at all. We will be detectives and find out interesting and maybe even surprising facts about these men! We are going to draw each President, chat about him and you will be able to sit down at dinner and tell your family presidential facts. Did you know that President James Madison was only 5'3" tall?
FAMOUS ARTISTS
Vermeer, Warhol, Grandma Moses, Degas…Wow! These folks are artists that we might have heard of and they were REAL people. These artists became famous because of their skills as an artist! Come along through history and let's use our pastels to see how they might have seen a girl with a pearl earring or even a famous tomato soup can!
Bonuses for Annual and Quarterly You ARE an Artist Clubhouse Membership
Many families celebrate special occasions with art. We have lessons for that! Mom and me time, tea time, holidays, favorite books, movies and so many favorites for you to choose from.
Art Lesson Index – Looking for something special? Plan your art times using the Master Index of ALL art lessons. This index includes all lessons in our video art courses plus links to the free ones we have shared all over the web.
Chalk Pastels at the Movies – all your favorite book and movie character art lessons at your finger tips.
Tea Time and Holidays & Celebrations Art Lessons – Nana has shared SO many favorites to reinforce learning and to celebrate special occasions!
PLUS!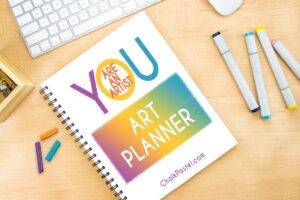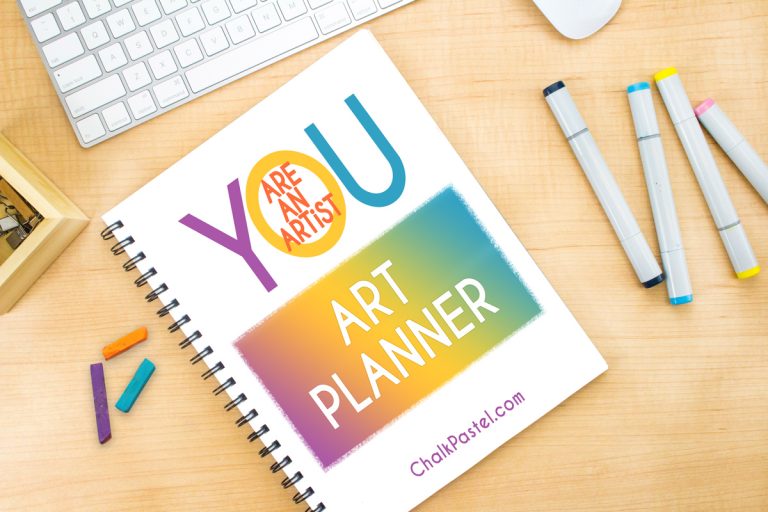 A beautiful You ARE an Artist planner for the whole year! A digital download with links to special, celebratory art lessons to enjoy each month.
You ARE an Artist Clubhouse Events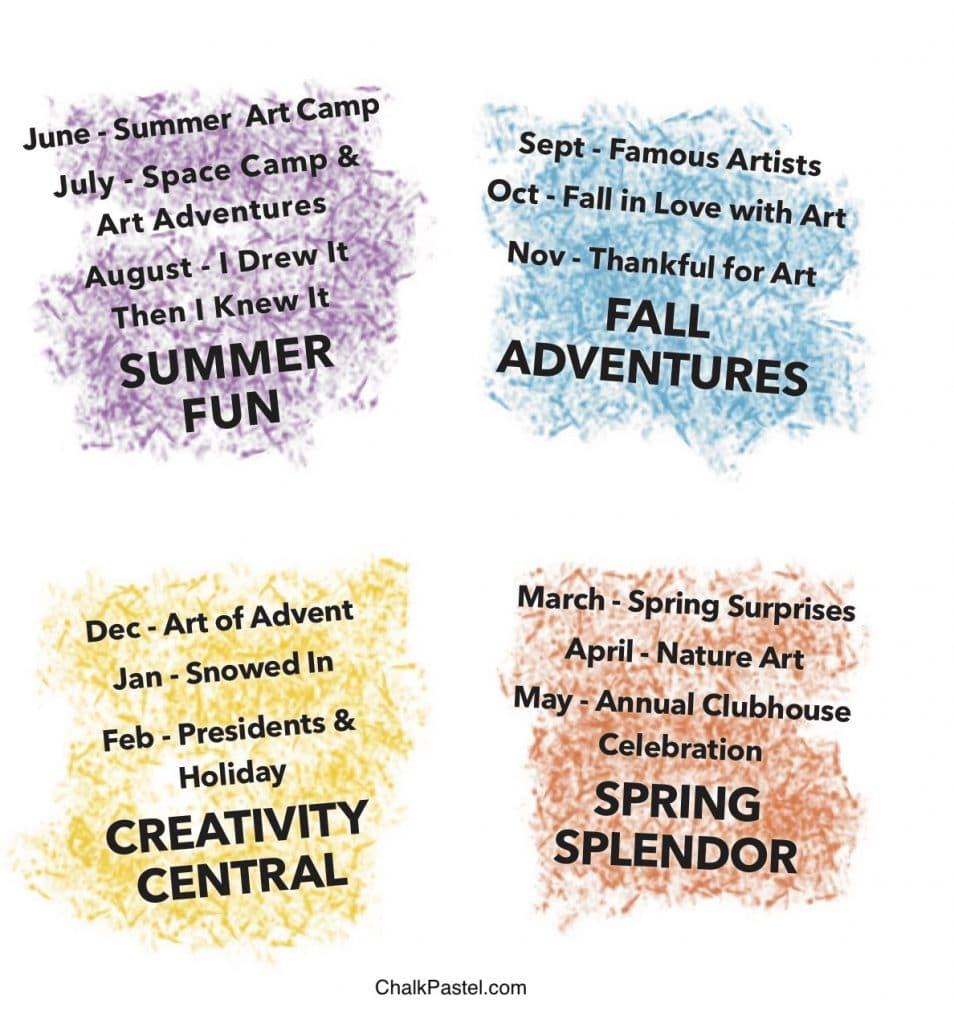 Themed, monthly art events AND even more new video art lessons for each season!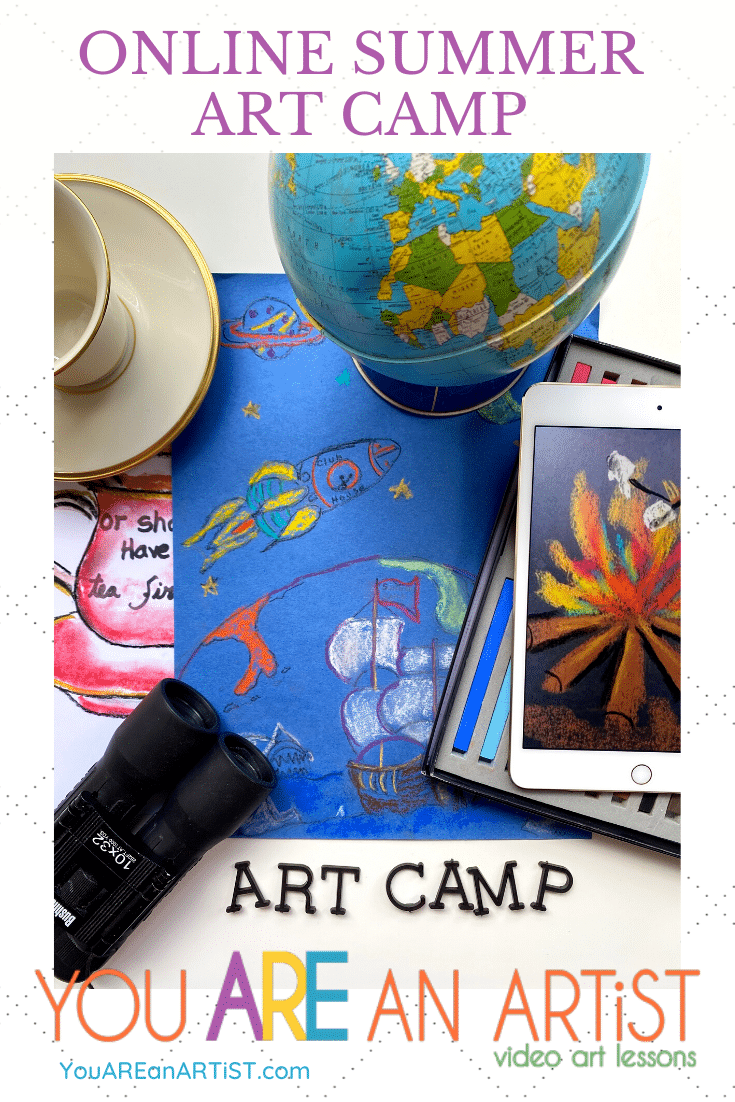 Summer Art Camp plus many more new video art lessons each semester!
What Happens in The You ARE an Artist Clubhouse?
Let's take a look at what annual members enjoy!
Artist Clubhouse Community
Support and Answers to Your Questions – Resources and weekly support from Nana in a private Facebook group only for You ARE an Artist clubhouse members.
Clubhouse email – news, links to art lessons.
What is included in our Video Art Lessons?
Step-by-step instructions
Techniques encourage both new artists and challenge more advanced ones
Independent learning for older students
FAQs
Glossary of art techniques
How to view the online video art lessons?
Each lesson includes an overhead view of Nana leading you through, step-by-step.
View each lesson on any digital device.
Once purchased, you have access to the courses for the length of your membership.

The Teacher, Master Artist Lucia Hames
Also known as Nana, Lucia is continually learning and taking lessons herself. Her passion is to help you realize that you ARE an artist! More on the teacher in Get Started in Chalk Pastel Art.
Choose the Artist Clubhouse membership level that best fits your needs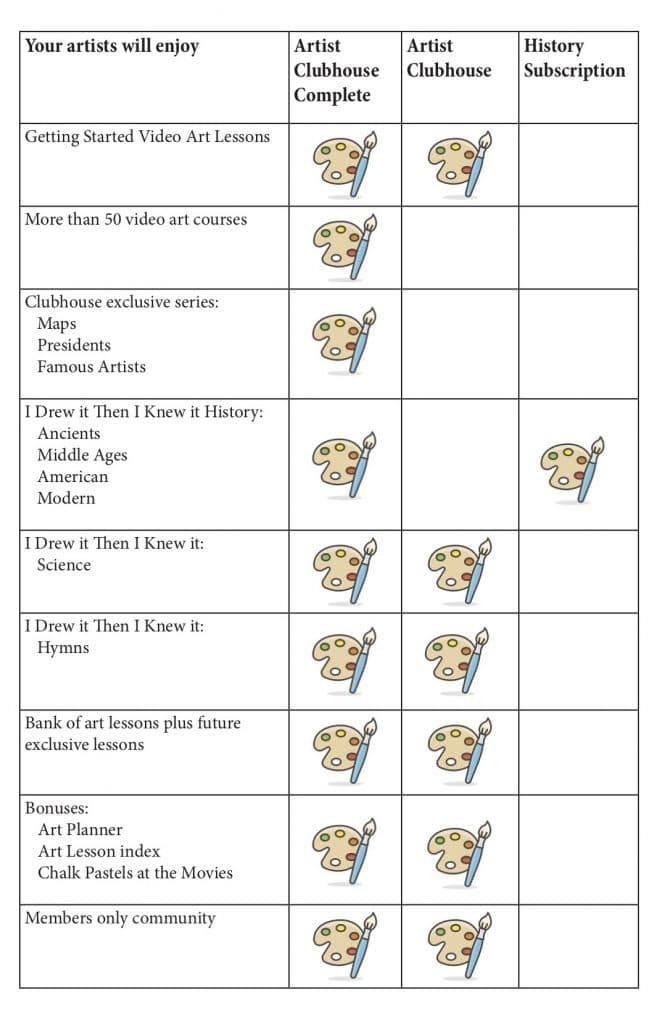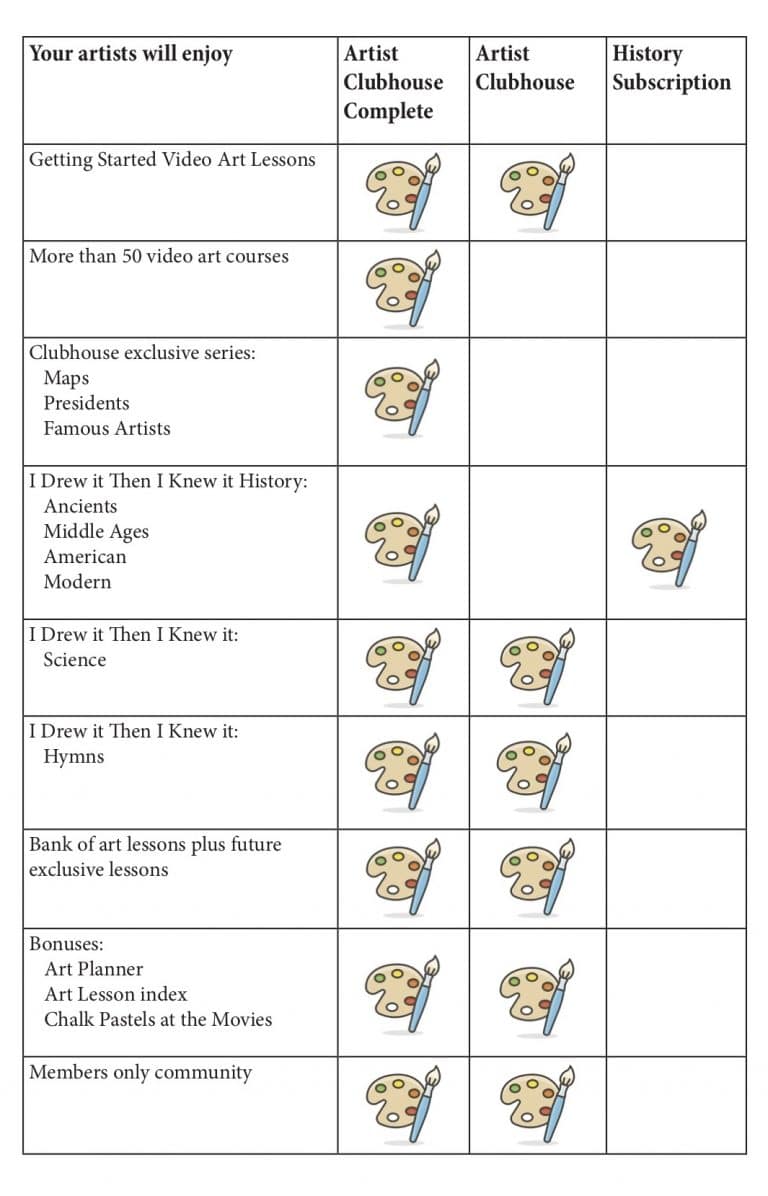 Complete Clubhouse is a $3,330 value!
Artist Clubhouse Complete. This membership option gives you endless access to the ENTIRE library of courses we offer in our shop plus the ongoing series of new lessons. That means ALL I Drew It Then I Knew It history courses + Presidents, Maps, Hymns and Famous Artists series + bonuses + community AND the basic membership.
Artist Clubhouse membership offers you access to the lesson library including A Simple Start, Seasonal & Holiday, Nature, Preschool, Acrylics, ebooks + Science + Hymns series + bonuses + community. *Excludes I Drew It Then I Knew It History series.
History Monthly Subscription allows you to choose one of four eras of history to complement your learning.
Join Nana in the Clubhouse!
Quarterly Complete
access to ALL lessons
upgrade to annual anytime
renews every three months
cancel anytime
$70.00 every 3 monthsBuy Now
Annual Complete
access to ALL lessons
get 2 months free
renews every year
cancel anytime
$250.00 / yearBuy Now
Monthly Complete
access to ALL lessons
upgrade to quarterly or annual anytime
renews every month
cancel anytime
$30.00 / monthBuy Now
Quarterly
upgrade to annual anytime
renews every three months
cancel anytime
$55.00 every 3 monthsBuy Now
Annual
get 2 months free
renews every year
cancel anytime
$200.00 / yearBuy Now
Monthly
upgrade to quarterly or annual anytime
renews every month
cancel anytime
$20.00 / monthBuy Now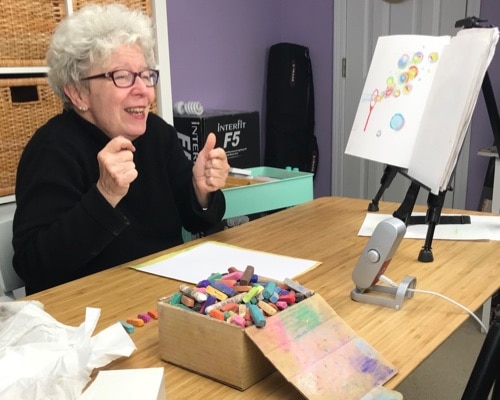 You ARE an Artist Clubhouse Membership Options
Complete Clubhouse Membership Annual $250, Quarterly $70, Monthly $30

Clubhouse Membership Annual $200, Quarterly $55, Monthly $20 (two months for free over the monthly option – that's roughly $16 a month or $4 a week for the whole family!)
Annual membership for one year:
Artist Clubhouse Complete – like getting four months free!
Artist Clubhouse – like getting two month free!
History Subscription – only $10 a month to access an era of history
No expensive, intimidating list of art supplies. It's as easy as 1, 2, 3

A starter set of chalk pastels
Paper you have on hand – construction paper or printer paper
Our video art lessons
Optional: You may want to have a damp cloth or baby wipes for chalky fingers and easy clean up.
That's all!
Frequently Asked Questions
Want access to ALL the video art lessons? The Complete Clubhouse option gives you all history lessons and all courses in our library – seasonal, history, nature, preschool, I Drew It Then I Knew It – all of it!
What about history art lessons? Yes! We have those! You can access history lessons with our Complete Clubhouse membership because all of the I Drew It Then I Knew It! lessons are included. We also created special history art lesson subscription tracks for those of you needing only the history era you are currently studying. Since you know your learning schedule best, this will be more self-directed than our regular membership. These are available in our shop now.
What do I start with? Start with your artists' favorite! What meets your needs of your artists the most? Start there. That may be A Simple Start in Chalk Pastels or it may be Sharks! When you purchase your membership, you get immediate access to all the video art courses listed above for the membership you purchased. Don't forget, with membership, you also have an Art Planner and the Art Lesson Index to use at any time. Plus Nana's new art lessons each month! And all those bonuses!
Do my courses go away after the first month? No. Once you have access to a course, you have it for as long as you are a member.
Can I cancel my membership any time? Yes. No obligation!
Can I upgrade my membership? Yes. Upgrade to Complete Clubhouse at any time using the settings in Your Account.
What Others Are Saying
"In someways it's like watching Bob Ross, just for kids!" – Dawn Peluso
"From age 30(+ a few) down to my newly 4yo, our entire household is enjoying chalk pastels. It's the first time in my life I've ever considered that I might fit the "you ARE an artist" tagline! I'm so thankful for having found you for my kids and myself!"– Maria Toomey
On Instagram…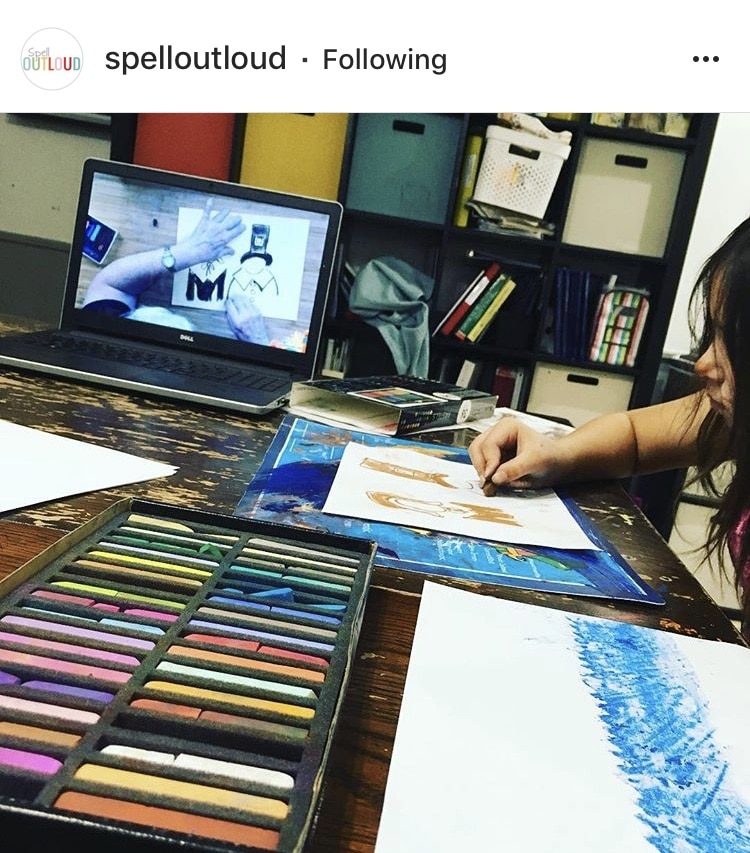 "This is the quietest my kids have been all day! They concentrated on their American history chalk pastel pieces. I love this program! It allows me to intentionally include art with our studies yet frees me up from being the teacher!" – Maureen Spell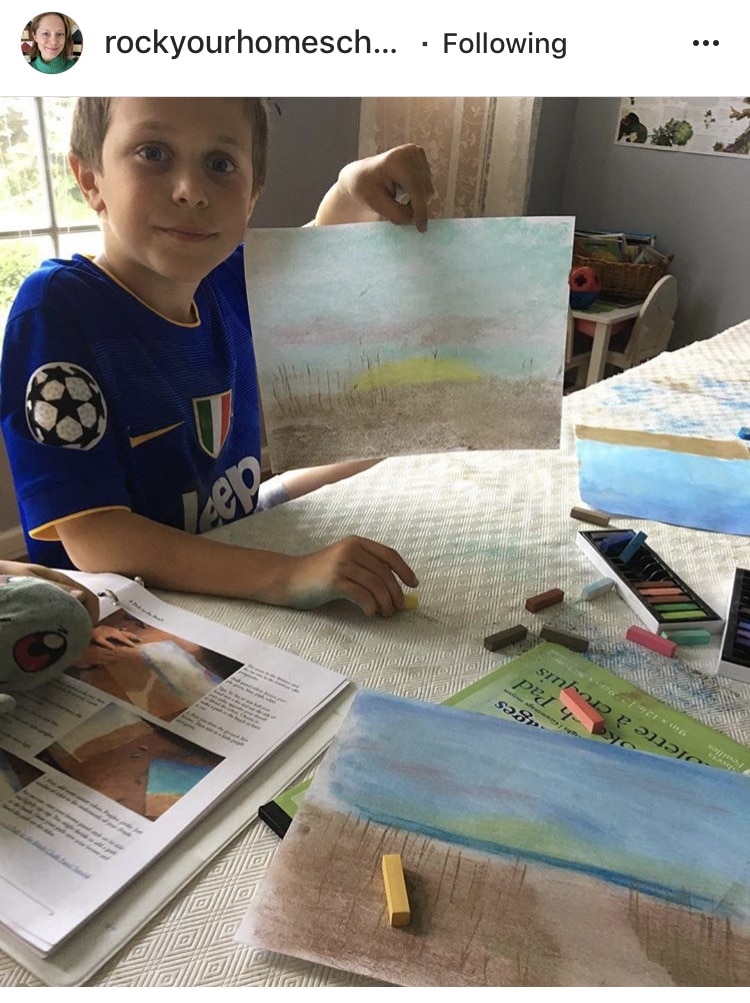 ""Oh mama, I never thought I could love art more! But, now I do!" Smiley, my little Bob Ross-wanna be, after our first lesson with Chalk Pastels: Art at the Beach. All the boys (3,6,8,12,14) were able to do this homeschool art lesson together. This homeschool mama is thrilled! We all had such fun working on this project and can't wait to do another tomorrow." – Amy Milcic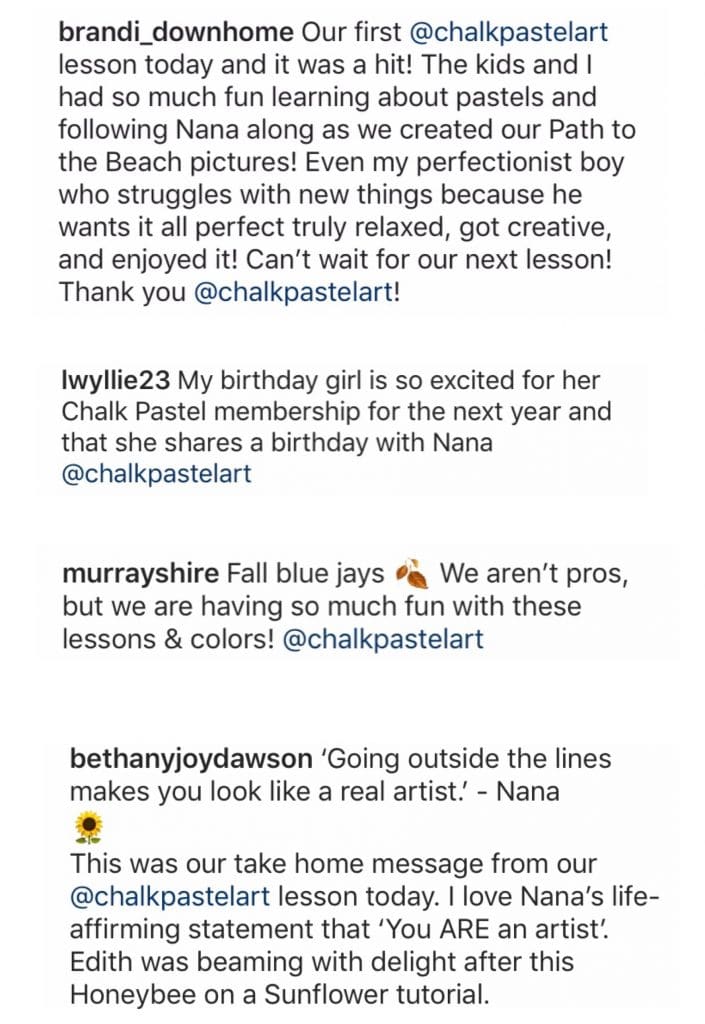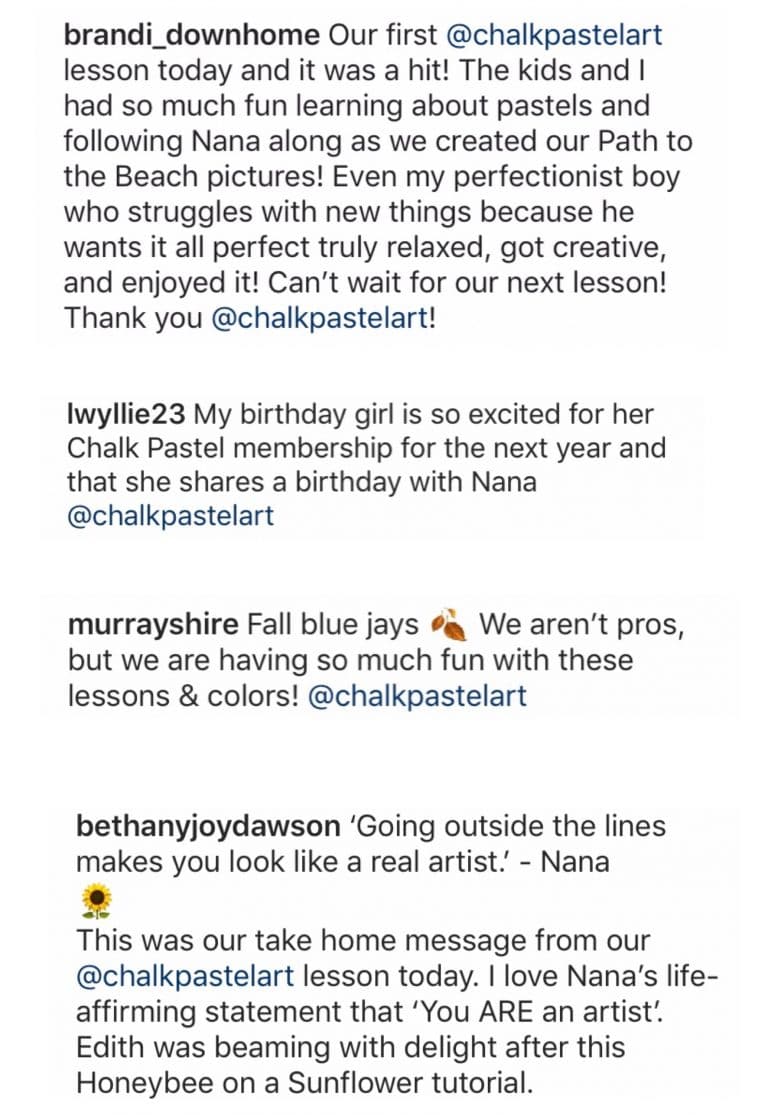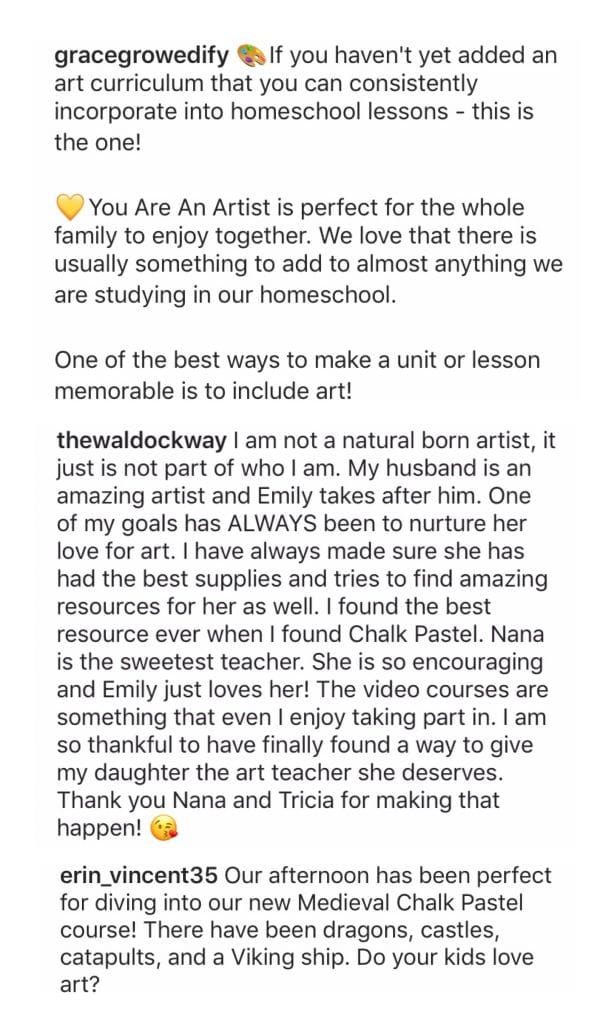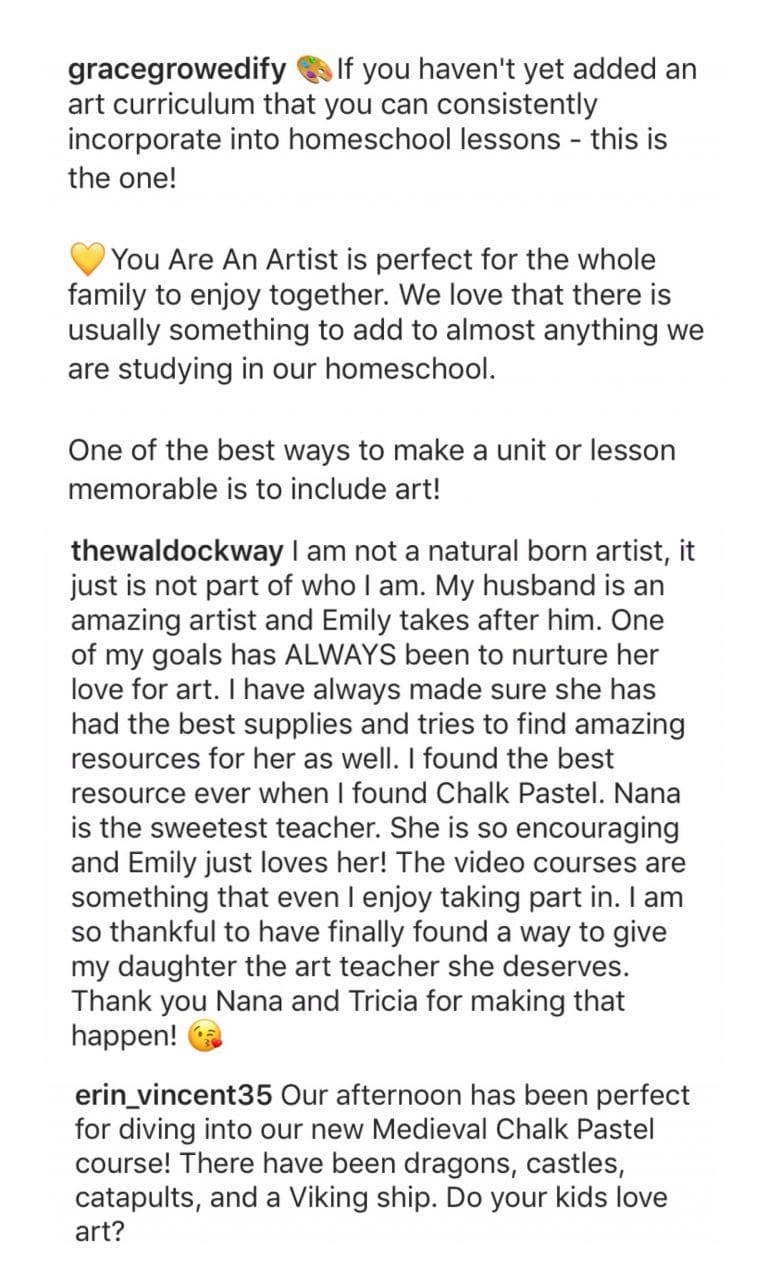 *This annual membership is designed for use by one family. For co-op and group pricing, please see our You ARE an Artist Co-Op Program.
Sign up below to be the first to know about Artist Clubhouse news!

You ARE an Artist NOW
Ready to find out more of what we do? Want to join the community now?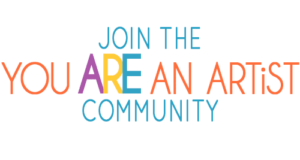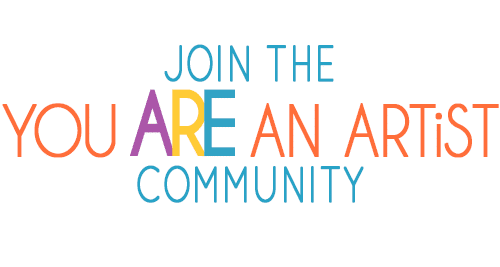 Join the You ARE an Artist Community
Learn the simple steps to Get Started in Chalk Pastel Art with our free set of video art lessons
Join the You ARE an Artist Community on Facebook
You ARE an Artist on: