With your artist clubhouse monthly subscription you will have access to what you need and you don't even have to be the art teacher! Clubhouse subscribers get a bank of art lessons for all ages, a wonderful community, Nana's new weekly art lessons plus themed art events throughout the year. It's art lessons for the whole family!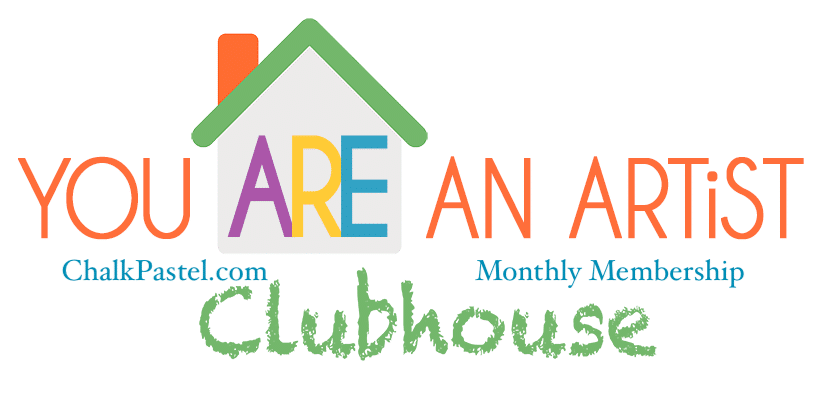 You ARE an Artist Clubhouse Monthly Subscription
Immediate access to A Simple Start in Chalk Pastels year-long video art course with 45 lessons plus the current video course of the month.
Also including: Get Started in Chalk Pastel Art Video Art Lessons and…
Preschool Video Art Lessons
Spring Video Art Lessons
Backyard Nature Video Art Lessons
Forest Nature Video Art Lessons
Garden Nature Video Art Lessons
Summer Art Camp Video Art Lessons
American Landmarks Video Art Lessons
Sharks Video Art lessons
Art Techniques Video Art Lessons
Fall Video Art Lessons
Preschool Fall
A Simple Start in Acrylics
Pond Video Art Lessons
The Gift of Art: Gifts to Make and Give
Nutcracker Video Art Lessons
Christmas Video Art Lessons
Winter Games Video Art Lessons
Preschool Winter Video Art lessons
Winter Video Art Lessons
Bird Video Art Lessons
Backyard Birds Acrylic Video Art Lessons
Tea Time Art Lessons (with bonus)
*That's a $868 value!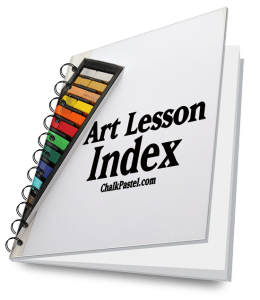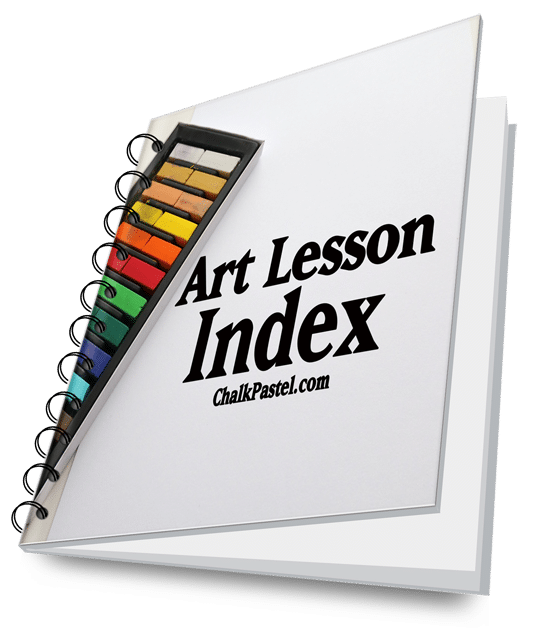 Art Lesson Index – Looking for something special? Plan your art times using the Master Index of ALL art lessons. This index includes all lessons in our video art courses plus links to the free ones we have shared all over the web.
A new video art course each month thereafter! You are continually building your bank of video art lessons for all ages. No more agonizing over which set of video art lessons to purchase.
A brand new art lesson each week! Nana's Weekly Art Lesson – live or pre-recorded every week. Each month two art lessons will be for members only.
What Happens with a Artist Clubhouse Monthly Subscription?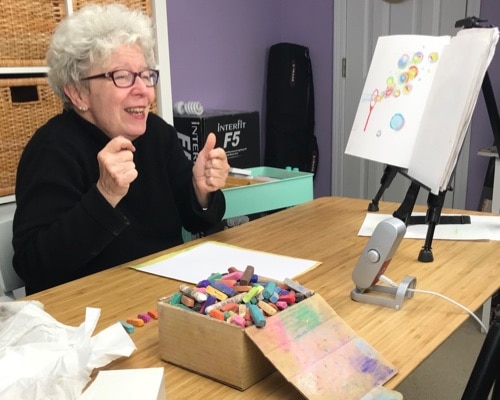 Let's take a look at what monthly subscribers will enjoy!
Artist Clubhouse Community
Support and Answers to Your Questions – Resources and weekly support from Nana in the You ARE an Artist Facebook Group.
Monthly Clubhouse e-Magazine – This digital magazine will share the scoop on the art them of the month. Includes an encouraging article from Nana plus links to free supplemental art lessons. You will also be the first to know the topics for monthly community art lessons.
Weekly Clubhouse email – news, links to exclusive art lessons.
What is included in our Video Art Lessons?
Step-by-step instructions
Techniques encourage both new artists and challenge more advanced ones
Independent learning for older students
FAQs
Glossary of art techniques
How to view the online video art lessons?
Each lesson includes an overhead view of Nana leading you through, step-by-step.
View each lesson on any digital device.
Once purchased, you have access to the courses for the length of your membership.

The Teacher, Master Artist Lucia Hames
Also known as Nana, Lucia is continually learning and taking lessons herself. Her passion is to help you realize that you ARE an artist!
What Supplies are Needed? It's as easy as 1, 2, 3

A starter set of chalk pastels
Paper you have on hand – construction paper or printer paper
Our video art lessons
Optional: You may want to have a damp cloth or baby wipes for chalky fingers and easy clean up.
That's all!

You ARE an Artist Membership Options
Annual Clubhouse Membership $200 – that's like two months free!
Monthly Clubhouse Subscription $20
Are you ready for…
Artist Clubhouse Monthly Subscription
Access to a new video art course each month!
Weekly art lesson from Nana. Four more new art lessons a month!
Member discount for purchases in the You ARE an Artist store.
Clubhouse Sample
– Need to try the You Are An Artist Clubhouse out first? Browse the store at
ChalkPastel.com
 and enjoy any of the free video art lesson samples. Visit our Weekly Art Lessons on Wednesday at noon ET on the
ChalkPastel.com
 Facebook page.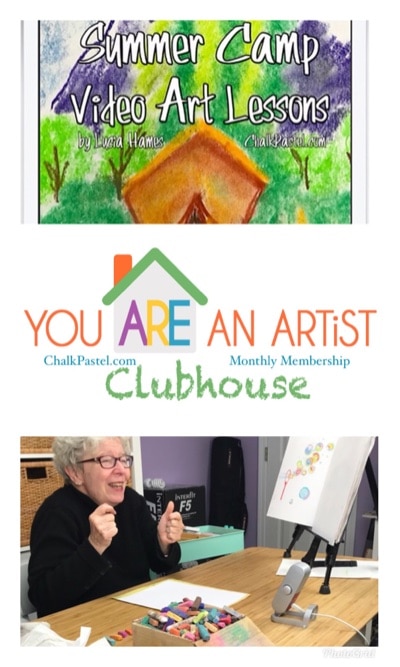 Frequently Asked Questions
Does the monthly subscription option include Summer Art Camp? Yes, it does!
What about history art lessons? We created special history art lesson tracks just for you. Since you know your learning schedule best, this will be more self-directed than our annual membership. These are available in our shop now.
What do I start with? When you purchase your Artist Clubhouse Monthly Subscription you can start with any of the lessons in A Simple Start in Chalk Pastels Video Art Course or the featured video art course. You also can choose from any of the Weekly Art Lessons Nana shares on the ChalkPastel.com Facebook page.
Do my courses go away after the first month? No. Once you have access to a course, you have it for as long as you are a member. Over a year you will have 15 courses! That is anywhere from $200 to $400 in savings over a year if you were to purchase courses individually.
"Ok, I have to tell you, I am NOT an art teacher… not even close.  The most my kids ever do with art is maybe a hands-on history lesson with coloring pages and some minor drawing.  I have now ventured into teaching them art WITH NANA!  We completed lesson one in pastels this morning, and it was fabulous!  She is inspiring a love of art in a family that knows nothing of it!  Thank you so much for sharing your precious mother with us all." ~ Lori Lange, homeschool mom of five @ Abnormal Herd
"When I saw that a preschooler could do it-maybe there's hope for me-the most 'uncrafty, artsy, homeschooler' of all time." ~Kimberly Harrell